Accelerated deployment of integrated CCUS chains based on solvent capture technology
AURORA is a three-and-a-half-year project funded by the European Union's HORIZON EUROPE research and innovation programme, which aims to optimise and qualify the open, non-proprietary CESAR1 solvent-based carbon capture technology for commercial deployment.
Full CCUS chain assessment and conceptual studies
Technology qualification and benchmark establishment
Preparation of pilot demonstrations
Demonstration of optimised solvent and process in pilots
Subscribe to our newsletter!
Keep up to date with AURORA
AURORA is preparing its second Stakeholder Forum (StF) to be held in Cambridge and online (hybrid meeting) from 15-17 (GMT) in January 2024. Our StF serves to guide AURORA's developments and advise on next steps to drive market adoption of our capture technology. On the agenda: RWE Innovation Center (partner of our sister project SCOPE - Sustainable OPEration of post-combustion Capture plants) will give a presentation about their experience from long term testing of the CESAR1 solvent. ENI will give a presentation about the Ravenna Hub. What would be your role? Participate actively in discussions concerning AURORA's implementation and issues…
Abstract Solvent degradation during the CO2 capture process is known to reduce capture capacity, increase corrosivity, emissions and solvent toxicity, and complicate operation of the plant. The wide variety in degradation compounds include charged species, typically referred to as heat stable salt (HSS), amides, acids, nitrosamines, small volatile organic compounds, ammonia, and more. To prolong the time in operation of an amine solution, solvent management strategies are implemented in the large-scale process, where thermal reclamation is among them. Thermal reclamation is typically performed by first adding sodium hydroxide (NaOH) to the degraded amine solution, prior to distillation of the solvent.1–3…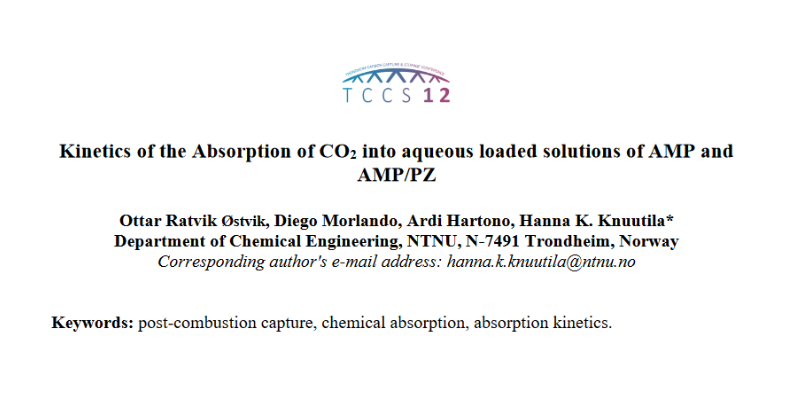 Abstract Amine-based absorption is currently the most advanced and cost-effective means of postcombustion CO2 capture among the different technologies that can be used (Dutcher et al., 2015). Much work has been done to reduce energy consumption, which constitutes one of the major penalties to the absorption process. Therefore, when it comes the need to develop new energyefficient solvents for the successful implementation of CO2-capture worldwide. An alternative to the widely used ethanolamine (MEA) is an aqueous solution of 2-amino-2-methyl-1-propanol (AMP), promoted with piperazine (PZ). It has been demonstrated that an aqueous blend 3.0 M AMP/ 1.5 M PZ, known as…
Abstract The reduction of carbon dioxide (CO2) emissions is a major global challenge in the fight against climate change. Among the various technologies available for post-combustion CO2 capture, amine-based absorption is currently considered the most advanced and cost-effective[1]. However, the absorption process incurs a significant energy penalty, prompting research efforts to develop new energy-efficient solvents for widespread implementation of CO2 capture. One such alternative to the commonly used ethanolamine (MEA) is an aqueous blend of 2-amino-2-methyl-1-propanol (AMP) and piperazine (PZ). Research has shown that CESAR1( a blend of 3.0 M AMP and 1.5 M PZ) demonstrates lower energy consumption [2],…
A reason why aqueous ethanolamine (MEA) is still considered a benchmark solvent for CO2 capture by some, despite of its relatively high energy consumption and relative instability compared to other solvents, is the abundance of knowledge and public data on MEA performance and chemistry. With more than 50 identified degradation compounds and successful attempts to find all nitrogen "lost" through MEA degradation in these degradation compounds, one can say that the mass and nitrogen balance of MEA during degradation, is closed. MEA is, however, no longer the solvent of choice for post combustion CO2 capture, but rather replaced with more…
ABSTRACT AURORA is a three and a half year HORIZON Europe project funded by EU and kicked off in January 2023. The participants of AURORA represent the following six European countries: Norway (5 partners), United Kingdom (1 partner), Belgium (1 partner), France (2 partners), Italy (1 partner), and Greece (2 partners). The AURORA consortium involves 12 partners from industry, research, and academia and has considerable involvement of industrial companies. The industrial partners are not only supporting the research but have also committed to directly investing and participating in the project's R&D and demonstration activities, boosting the credibility of the project's…
ESCAPE34-PSE24 calls for papers for the European Symposium on Computer-Aided Process Engineering and the International Symposium on Process Systems Engineering, to be held in Florence from June 2 to 6, 2024. Details on the symposium and the call for paper may be found in https://aidic.it/ESCAPE34-PSE24/index.php Please submit your abstract through this page. THE DEADLINE FOR ABSTRACT SUBMISSION IS SEPTEMBER 15, 2023 Selected papers will be presented during the symposium and published according with its publication policy. For any further information or assistance you may contact this secretariat. The PSE series of triennial conferences was initiated in 1982, rotates between venues…
Tiller C02 laboratory
The CO2 laboratory at Tiller is a highly equipped test facility for development of post-combustion CO2 capture technologies, as well as a research lab for flue gas pre-treatment analysis and emission research. AURORA will use the Tiller plant to test the CESAR1 solvent.
Mobile Test Unit (MTU)
The Mobile Test Unit (MTU), Aker Carbon Capture's modular CO2 capture test facility, easily transportable and generating representative data for industrial CO2 capture applications, will be transported to one of the end-user sites in Greece.
Technology Center of Mongstad (TCM)
Following trials on the much smaller Tiller pilot plant and the first on-site test campaign with the smaller MTU, the TCM pilot plant will be used to confirm the optimum composition of the CESAR1 solvent for large-scale industrial projects without precipitation problems.
The AURORA consortium involves 12 partners from industry, research, and academia and has considerable involvement of industrial companies.